Jamie S Knoertzer
Executive Director of Recruitment
jamie.knoertzer@nm.com
Office 616-774-2031
My Networks:
Internships
Northwestern Mutual - West Michigan Awarded Top Employer at Grand Valley State University

On Wednesdsay, April 13th, 2016 Director of Internship Development, Lisa Granger, accepted the Outstanding Internship Employer of the Year Award at Grand Valley State Univeristy's Eberhard Center. Our internship program was given this award based on the number of students from GVSU who have been offered a spot in our internship, as well as for our involvement on campus with various sponsorships and scholarships. Our committment to the Lakers Athletic Program, in addition to being the premiere sponsor for the MWEST regional business plan competition have kept our team active on campus all year.
Glover Network Office the Presenting Sponsor for the MWEST Regional Business Plan Competition
The Grand Rapids office was proud to be the presenting sponsor of the West Michigan MWEST Challenge business plan competition. We awarded two entrepreneurial student groups each $6,000 to pursue their business plan and turn their dreams into a reality. It was an honor to judge the competition. West Michigan is home to high-caliber entrepreneurs. Congratulations to the winning students!
Northwestern Mutual - A Top 10 Internship Program for 20 Consecutive Years
If you have an entrepreneurial spirit, want real-world business experience and are looking to make a difference, then an internship with Northwestern Mutual is right for you. Our internship has been ranked Number 1 in the banking/finance category by Vault's 2016 Guide to Internships due to its mentorship and career advancement opportunities, intern involvement, resume enhancement and unique appeal.
For more information, contact our Director of Internship Development:
Lisa Granger (616) 233-2024 | Lisa.Granger@nm.com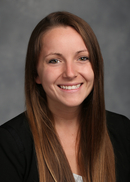 Hanna M Windberg
Campus Recruiter
hanna.windberg@nm.com
Office 616-774-2031
My Networks: